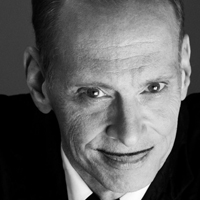 John Waters
In conversation with Edward Ortiz
Wednesday, May 26, 2010
Crest Theatre | 7:30 p.m.
American filmmaker and writer John Waters is the successful creator of several cult-classic films, including Hairspray, Pink Flamingos, and Cecil B. DeMented. He has been awarded the Jack Smith Lifetime Achievement Award by the Chicago Underground Film Festival, and his film Hairspray has been adapted into an award-winning Broadway musical and 2007 film. Waters has published several collections of photographs and writings, including Role Models (2010), Unwatchable and Shock Value.
"[John Waters] is a dandy who has done away with everyone else's hierarchies and created a new world that conforms only to his own taste for trash and the sublime. He is frank, funny, and (strangely enough) both sensible and outrageous." – Edmund White, author of City Boy